Learn how to stay safe around natural gas lines and overhead and underground electric lines. Real workers and accident survivors teach how to avoid devastating accidents, damages and liability.
Electrical & Natural Gas
Safety Basics
Digging & Excavating
Ladders & Long Tools
Cranes & Heavy Equipment
Aprenda a trabajar sin riesgos cerca de tuberías de gas natural y de líneas eléctricas aéreas y subterráneas. Un grupo de trabajadores reales y sobrevivientes de accidentes le enseñarán qué hacer para evitar accidentes devastadores, daños y responsabilidad civil.
Seguridad básica al trabajar con electricidad y gas
Perforacion y excavation
Escaleras y herramientas de extension
Gruas y equipo pesado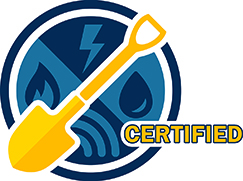 Gold Shovel Standard
Xcel Energy is a founding member of the Gold Shovel Standard, which is a first-of-its-kind, two-part excavation safety program. The program both certifies an excavator's policies and procedures against the Gold Shovel Standard, and publishes a score or rating, known as an EICO™ score, which is an ongoing measure of an excavator's excavation-safety-worthiness. It is a novel and ambitious program on a North American scale to dramatically reduce damages from excavation to buried asset networks.