| | |
| --- | --- |
| Please help us improve our safety tips to meet your training needs. Take our two-minute survey. | |
What is the tolerance zone?
The tolerance zone is a hand-dig zone that spans the width of a marked underground utility, plus a specified distance from each indicated outside edge of the utility. This specified distance varies from state to state. It is 18 inches in Colorado, New Mexico, South Dakota and Wisconsin; 24 inches in Minnesota and North Dakota; and 48 inches in Michigan. (Texas law does not specify this distance; however, 18 inches is a recommended best practice.)
In some (but not all) states, the law requires you to hand dig or vacuum excavate to expose and visually verify the location of all marked utilities before power-digging in the tolerance zone. It is the excavator's responsibility to know and follow state damage prevention laws. Learn more about your state's requirements here: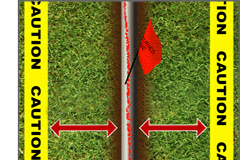 Dig with care

When digging in the tolerance zone, use reasonable care and these nondestructive digging methods:
Hand digging with a blunt shovel. Never use a pickaxe or pointed spade, and never stomp on a shovel with both feet. That's a sure way to damage a utility line. Instead, use a blunt shovel and a gentle, prying motion to break away soil as you approach the utility laterally.
Vacuum excavation. This method uses suction and water to quickly and safely remove soil. Be mindful of water pressure; use lower pressure and tips with multiple nozzles.
Proceed with caution

Once you have exposed buried utilities, proceed with extreme caution. Power digging equipment can damage a section of electrical conduit or pipeline in no time. Even hand digging can compromise buried utilities by removing supporting soil. Take all necessary precautions to protect buried utilities from damage.
Would you like to know more?

Additional overhead and digging guidelines, emergency procedures,
case studies, instructional videos and training tools can all be found
at no charge to you on Xcel Energy's eSMARTworkers website.
Do you like this email series? Do you find the information helpful? We'd like to know. Please reply to this email and tell us what you think, or let us know what topics you'd like to see in future emails.
Please help us improve our safety tips to meet your training needs. Take our two-minute survey. Take the survey now.